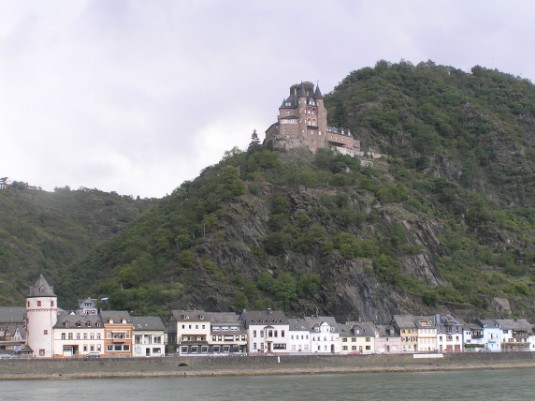 This was the most northerly vineyard in Germany, beginning just below Bonn and extending about 100 km south along the banks of the Rhine, the Mittelrhein is a beautiful region of steep, terraced vineyards and some of the wine world's most splendid scenery , medieval castles and ruins clinging to rocky peaks, sites of ancient legends where Siegfried, Hagen and the Loreley seem to spring to life. Nearly three quarters of the vineyards are planted with the noble Riesling grape. The clayish slate soil yields lively wines with a pronounced acidity. In years when the wines are particularly austere, they are sold to the producers of Sekt , Germany 's sparkling wine, where high acidity is an asset.
The cold winds coming down from the Hunsruck Mountains can meet the warm air from the Rhine and cause sudden frosts in late spring and early autumn.
Wine-growing was introduced by the Romans. The name of the wine place Baccharach comes from the Roman "Baccara" = "Altar of Bacchus". Baccharach is the central wine trade place and tourist attraction no. 1. Middle Rhine is the embodiment of German wine romanticism: Defying castles, the Rhine river in the valley and the wine in the goblet.
The Mittlerhein below Goarshausen is one of the few vineyards in the world where phylloxera has not yet struck.
In 2001 the region of Mittelrhein which has 505 ha under vine produced 33.404 hectolitres of grape must which gives a yield of 65,5 hectolitres per hectares this was split into 0,0 % table wine 22,2 % qba wine and 77,6 qmp wines.
Geographical location:
The stretch of the Rhine Valley between Bonn and Bingen known as the Rhine Gorge.
Major town(s): Koblenz (confluence of the Mosel and Rhine rivers), Boppard, Oberwesel, Bacharach, Bingen (confluence of the Nahe and Rhine rivers).
Climate:
The steep hillsides of the valley protect the vines from cold winds and there is ample sunshine. The Rhine serves as a large, heat-reflecting surface. The Rhine river flows in direction North-Northwest, therefore most of the slope locations are orientated to the West . Due to this fact and the relatively northern location, the climate is somewhat cooler than on the Mosel river or the Rheingau. However the easy to warm up clay-slate soils provide for a good temperature balance and relieve the danger of late frost.