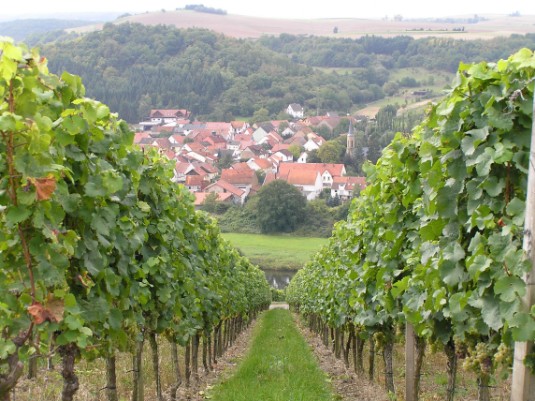 The Nahe region is named after the river that traverses the valleys of the forested Hunsrück Hills as it gently flows toward Bingen on the Rhine . The vines grow along the Nahe River and its tributaries Glan and Alsenz, from Merxheim up to the confluence into the Rhine near Bingen. Borders in the West on Hunsrück and Soonwald. In the South on Haardt and DonnersbergIt is a peaceful landscape of vineyards, orchards and meadows interspersed with cliffs and striking geological formations. Although the Nahe is one of the smaller German wine regions, its extraordinary range of soil types is second to none. For this reason, the region is able to produce quite diverse wines from relatively few grape varieties. The steeper sites of volcanic or weathered stone, and those with red, clayish slate seem predestined for elegant, piquant Riesling wines of great finesse and a light spiciness, while flatter sites of loam, loess and sandy soils yield lighter, fragrant Müller-Thurgau wines with a flowery note. The Silvaner grape thrives in a number of soils and produces full-bodied, earthy wines.
Almost 2000 years ago the Romans brought wine-growing to the Nahe. The oldest wine place is Nordheim.
In 2001 the region of Nahe which has 4.297 ha under vine produced 311.650 hectolitres of grape must which gives a yield of 73,8 hectolitres per hectares this was split into 1,6 % table wine 41,2 % QbA wine and 57,2 QmP wines.
In the Hunsrück Hills between the Rhine and Mosel valleys. Vineyards are on or near the banks of the Nahe River and its tributaries, the Glan and the Alsenz, as well as the streams north and west of Bad Kreuznach (Gräfenbach, Guldenbach, Trollbach and Ellerbach).
Major town(s): the spas Bad Kreuznach, Bad Münster am Stein-Ebernburg, Bad Sobernheim
Mild and balanced, with little frost. Due to Soonwald and Hunsrück Mountains it is protected against cold winds, mild and a lot of sun, and little rain. This enables the grapes to have a long and dry ripening in late summer.
The entire rock cycle of igneous (volcanic), sedimentary (sandstone, clay, limestone) and metamorphic (slate) rocks is present in the Nahe. Therefore there is a lot of variety, slate and porphyry, new red sandstone, clay, potter's clay, and marl. In the lower Nahe area more flat and nutritious soils. In the upper area / Glan mouth steeper locations and more skeleton-rich soils.