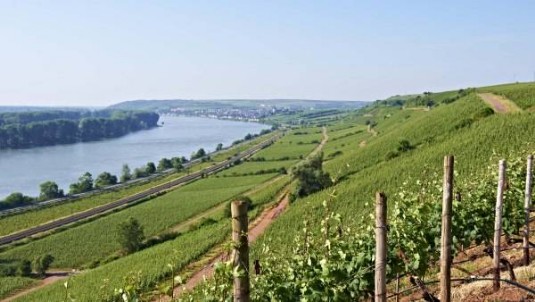 Rheinhessen
The largest wine-growing area of Germany . Located in the " Rhine 's sharp bend" between Mainz , Bingen, Alzey, and Worms . The rivers Selz and Primm pass through its Soft hilly landscape. Extensive production of wine, also for the sparkling wine industry. Most known export bestseller is probably the "Liebfraumilch".
. While vines are virtually a monoculture in the Rheingau or along the Mosel , they are but one of many crops that share the fertile soils of this region's vast farmlands. Steep vineyard sites are confined to small areas near Bingen and south of Mainz along the Rhein Terrace. Varied soils and the favourable climate make it possible to grow many grape varieties, old and new. In fact, many of Germany 's aromatic, early-ripening new crossings were bred in Rheinhessen by Professor Georg Scheu, after whom the Scheurebe grape is named (pronounced "shoy"). The region boasts the world's largest acreage planted with the ancient variety Silvaner and is the birthplace of Liebfraumilch, the soft, mellow white wine originally made from grapes grown in vineyards surrounding the Liebfrauenkirche, or Church of Our Lady , in Worms . Rheinhessen wines are often characterized as being soft, fragrant, medium-bodied and mild in acidity pleasant, easy-to-drink wines. There are also wines of great class and elegance, with a depth and complexity second to none.
The first vineyard in Mainz was around 20 BC. Wine-growing and wine trade in Rhine-Hesse flourished already in the 8th century. The cultivation of Riesling in 1511 in Pfeddersheim is verified by documents. In the middle Ages it was regarded as " Europe 's winepress".
In 2001 the region of Rheinhessen which has 26.296 ha under vine produced 2.401.967 hectolitres of grape must which gives a yield of 95,4 hectolitres per hectares this was split into 0,3 % table wine 43,9 % QbA wine and 55,8 QmP wines.
Geographical location:
The Rhine Valley , bordered on the west by the Nahe River and on the north and east by the Rhine .
Major town(s): Mainz , Worms , Alzey, Bingen.
Climate:
Mild. The region is ringed by protective hills and forests: in the west, the forested, hilly countryside known as Rheinhessen's Switzerland ; in the north, the Taunus Hills; in the east, the Oden Forest . Few precipitations. Still relatively cold winters with increasing distance from the Rhine River since a temperature-balancing water surface is missing.
Geology:
Mostly loess, especially in the Wonnegau and in the Alzey area. Otherwise rich, chalky marl soils with a high share of clay.
Loess, limestone and loam, often mixed with sand or gravel, are the main soil types. Rotliegendes is a red, slatey-sandy clay soil in the steep riverfront vineyards of Nackenheim and Nierstein and near Bingen, there is an outcropping of quartzite-slate
26.296ha · 3 districts · 24 collective vineyard sites · 400+ individual sites (see below)

Specified region Rheinhessen

(a) Sub-regions:

Bereich Bingen

GROSSLAGE Sankt Rochuskapelle

Schloßberg-Schwätzerchen

Kirchberg

Kapellenberg

Pfarrgarten

Pfarrgarten

Bubenststück

Osterberg

Rosengarten

Scharlachberg

Schelmenstück

Schwarzenberg

Schelmenstück

Palmenstein

Ölberg

Goldberg

Gewürzgärtchen

Goldberg

Kirchgärtchen

Honigberg

Kieselberg

Pfaffen-Schwabenheim (village)

Mandelbaum

Zotzenheim (village)

Johannisberg

Klostergartchen

Galgenberg

Römerberg

Honigberg

Klosterweg

Mainzerweg

Laberstall

Hockenmühle

St Jakobsberg

Klosterweg

Kreuz

Schönhölle

GROSSLAGE Abtey

Steinert

Johannisberg

Goldberg

Rothenberg

St Laurenzikapelle

Daubhaus

Hundertgulden

Eselspfad

Drosselborn

Honigberg

Steinacker

Mönchspforte

Klostergarten

Honigberg

Hölle

Sonnenberg

Wißberg

Klostergarten

Steinberg

Geyersberg

Wolfsheim (village)

Götzenborn

Osterberg

Sankt Kathrin

Sankt Georgen

Steinberg

GROSSLAGE Rheingrafenstein

Sternberg

Volxheim (village)

Mönchberg

Alte Römerstraße

Liebfrau

Klostergarten

Sonnenberg

Galgenberg

Gewürzgarten

Kirschberg

Alte Römerstraße

Fels

Rheingrafenberg

Reichskeller

Kirchberg

Graukatz

Kapellenberg

Eichelberg

Steige

Sonnenberg

Wonsheim (village)

Sonnenberg

Hölle

Martinsberg

Eichelberg

Kletterberg

Kirschwingert

Heerkretz

Heerkretz

Goldenes Horn

Höllberg

Martinsberg

Wöllstein (village)

Haarberg-katzensteg

Ölberg

Affchen

Hölle

Kirchberg

Eselstreiber

GROSSLAGE Adelberg

Wingertsberg

Ahrenberg

Heiligenpfad

Steigerberg

Binger Berg

Rotenpfad

Klostergarten

Geisterberg

Binger Berg

Pfaffenberg

La Roche

Geisterberg

Geisterberg

Vogelsang

Hähnchen

Hütte Terrassn

Kirchenstück

Schönberg

Schönberg

Mandleberg

Klosterberg

Hildegardisberg

Goldstükchen

Geiersberg

Geiersberg

Leckersberg

Kachelberg

Wörrstadt (village)

Kachelberg

Rheingrafenberg

Kachelberg

Schildberg

GROSSLAGE Kurfürstenstück

Schloßhölle

Bockshaut

Saukopf

Kapelle

Wöllstein (village)

Schloßhölle

Bockshaut

Vogelsang

Heil

Wißberg

Kaisergarten

Wißberg

Kaisergarten

Geyersberg

Sonnenberg

GROSSLAGE Kaiserpfalz

St Georgenberg

Goldberg

Hasensprung

Heiligenhäuschen

Adelpfad

Römerberg

Kallenberg

Honigberg

Sonnenberg

Schloßberg

Klostergarten

Schloßberg

Klosterbruder

Bockstein

Heilighäuschen

Schloß Westerhaus

Schloßberg

Sonnenhang

Rheinhöhe

Sonnenberg

Burgberg

Kirchenstück

Täuscherspfad

Horn

Pares

Steinacker

Höllenweg

Rotes Kreuz

Lottenstück

Rabekopf

Rabenkopf

Schwalben

Steinberg

Geißberg

Steinacker

Höllenberg

Bereich Nierstein

GROSSLAGE Sankt Alban

Kirchenstück

Johannisberg

Edelmann

Klosterberg

Johannisberg

Edelmann

Klosterberg

Sand

Hüttberg

Weinkeller

Mönhspfad

Burgweg

Ebersberg

Heitersbrünnchen

Reichsritterstift

Westrum

Hoch

Kapelle

Leidhecke

Silberberg

Kreuzberg

Glockenberg

Pfaffenweg

Kellersberg

Herrnberg

Börnchen

Schloßberg

Lieth

Lörzweiler (village)

Ölgild

Hohberg

GROSSLAGE Domherr

Geiershöll

Villenkeller

Herrgottshaus

Kapellenberg

Kapellenberg

Teufelspfad

Römerberg

Bockstein

Tempelchen

Blume

Lenchen

Spitzberg

Probstey

Schloßberg

Hölle

Haubenberg

Pfaffengarten

Heiligenhaus

Goldberg

Sonnenberg

Kirchberg

Mönchspfad

Ritterberg

Sonnenhang

Dornpfad

Kirchberg

Rosengarten

GROSSLAGE Gutes Domtal

Klosterberg

Sonnenberg

Goldberg

Königstuhl

Schmittskapellchen

Pfaffenkappe

Doctor

Steinberg

Kranzberg

Altdörr

Hohberg

Kehr

Altdörr

Bergpfad

Knopf

Goldberg

Goldgrube

Rheinpforte

Gottesgarten

Osterberg

Knopf

Moosberg

Moosberg

Zornheim (village)

Vogelsang

Guldenmorgen

Mönchbäumchen

Dachgewann

Pilgerweg

Osterberg

Silbergrube

Klosterberg

GROSSLAGE Spiegelberg

Nackenheim (village)

Engelberg

Rothenberg

Nierstein

Rosenberg

Klostergarten

Findling

Kirchplatte

Schloß Hohenreschen

Bildstock

Brücken

Paterberg

Hölle

Schwabsburg (village)

Kirchplatte

Bildstock

Ebersberg

GROSSLAGE Rehbach

Nierstein (village)

Pettenthal

Brudersberg

Hipping

Goldene Luft

GROSSLAGE Auflangen

Nierstein (village)

Kranzberg

Zehnmorgen

Bergkirche

Glö

Ölberg

Heiligenbaum

Orbel

Schloß schwabsburg

Schawabsburg (village)

Orbel

Schloß schwabsburg

GROSSLAGE Güldenmorgen

Oppenheim

Daubhaus

Zuckerburg

Herrenberg

Sackträger

Schützenhütte

Kreuz

Herrenberg

Kreuz

Falkenberg

Siliusbrunnen

Höhlchen

Tafelstein

Tafelstein

GROSSLAGE Krötenbrunnen

Oppenheim (village)

Schloßberg

Schloß

Paterhof

Herrengarten

Schloß

Paterhof

Herrengarten

Honigberg

Steinberg

Sonnenhang

Sonnenberg

Eiserne hand

Sankt Julianenbrunnen

Sonnenweg

Liebfrauenthal

Goldberg

Goldberg

Goldberg

Altenberg

Sonnheil

Fraugarten

Kreuzberg

Schützenhütte

Hexelberg

Sonnenhang

Römerschanze

Uelversheim (village)

Aulenberg

schloß

GROSSLAGE Vögelsgärten

Teufelskopf

Guntersblum (village)

Kreuzkapelle

Steig-Terrassen

Bornpfad

Authental

Himmelthal

GROSSLAGE Petersberg

Wingertstor

Sonnenberg

Homberg

Klosterberg

Herrgottspfad

Ölberg

Fuchsloch

Gau-Odernheim Orsteil Gau-Könernheim (village)

Vogelsang

Zechberg

Kreuzweg

Hornberg

Schloßberg

Pfarrgarten

Schloß Hammerstein

Hundskopf

Homberg

Schloß Hammerstein

Pilgerstein

Rosenberg

Osterberg

GROSSLAGE Rheinblick

Fisherpfad

Frühmesse

Römerberg

Sonnenberg

Hasensprung

Römerberg

Mettenheim (village)

Michelsberg

Schloßberg

Bereich Wonnegau

GROSSLAGE Sybillinenstein

Fröhlich

Mandelberg

Sioner klosterberg

Mandelberg

Hölle

Kirchenstuck

Kapellenberg

Heiliger Bluberg

Sonnenberg

Rotenfels

Kapellenberg

Rotenfels

Römerberg

Pfaffenhalde

Wartberg

Wartberg

Himmelacker

Wahlheim (village)

Schelmen

Frankenstein

GROSSLAGE Bergkloster

Goldberg

Feuerberg

Goldberg

Felsen

Felsen

Sommerwende

Höllenbrand

Königsstuhl

Sonnenberg

Mandelbrunnen

Hungerbiene

Hasenlauf

Rotenstein

Steingrube

Benn

Morstein

Brunnenhäuschen

Kirchspiel

Alerde

GROSSLAGE Pilgerpfad

Heil

Leckerberg

Pfaffenmütze

Mönchhube

Kloppberg

Geiersberg

Liebfrauenberg

Edie Weingärten

Mondschein

Goldberg

Steinhöhl

Hasensprung

Heiligkreuz

Rheinberg

Klosterberg

Liebenberg

Kirchberg

GROSSLAGE Gotteshilfe

Rosengarten

Geyersberg

Stein

Osthofen (village)

Hasenbiß

Neuberg

Leckzapfen

Goldberg

GROSSLAGE Burg Rodenstein

Blücherpfad

Seilgarten

Flörsheim- Dalsheim orsteil Dalsheim (village)

Hubacker

Sauloch

Steig

Bürgel

Flörsheim- Dalsheim orsteil Neiderflörsheim (village)

Steig

Goldberg

Frauenberg

Nonnengarten

Katzenbuckel

GROSSLAGE Domblick

Zellerweg am schwarzen Herrgott

Silberberg

Silberberg

Rotenberg

Horn

Rosengarten

Sonnenberg

Kirchenstück

Engelsberg

Schloßgarten

GROSSLAGE Liebfrauenmorgen

Worms (village)

St Cyriakusstift

Liebfrauenstift Kirchenstück

Remeyerhof

Nonnenwingert

Nonnenwingert

Goldpfad

Klausenberg

Kapellenstück

Bildstock

Rheinberg

Lerchelsberg

Sankt Annaberg

Hochberg

Römersteg

Nonnenwingert

Hochberg

St Georgenberg

Kreuzblick

Goldberg

Bururgweg

Am Heiligen Häuschen

Affenberg

Schneckenberg