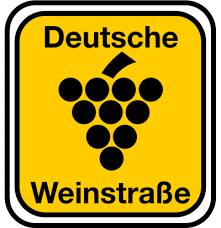 Bordered by Rheinhessen on the north and France on the south and west, the Rheinpfalz extends some 80 km in north-southern direction along the eastern foothills of the Haardt on 6 - 10 km width. Between Bockenheim in the North and Schweigen in the South. It is Germany 's second largest wine region in acreage, but often has the largest crop of all. The word Pfalz is a derivation of the Latin word palatium, meaning palace. The English equivalent, Palatinate , is sometimes used to refer to the Pfalz. Modern technology and viticultural training have made their mark here in the past four decades. Yet for the visitor driving through the sea of vines along the German Wine Road , the scene is still pastoral with the tree-covered Haardt mountain range, castle ruins, fruit trees, and old walled villages of half-timbered houses. The Pfalz is second only to the Mosel in acreage planted with the noble Riesling grape. Here, it yields wines of substance and finesse, with a less austere acidity than their Mosel counterparts. Pleasant, mild white wines rich in bouquet and full of body are produced from Müller-Thurgau, Kerner, Silvaner and Scheurebe grapes, while smooth, fruity red wine is made from the Portugieser grape. There are many new plantings of Dornfelder, which produces a deep-coloured wine that can be quite complex, depending on the winemaking methods used.
In 2001 the region of Pfalz which has 23.357 ha under vine produced 2.272.051 hectolitres of grape must which gives a yield of 102,1 hectolitres per hectares this was split into 0,7% table wine 50,5 % QbA wine and 48,8 QmP wines.
Between the densely forested Haardt Mountains (an extension of the Vosges ) and the Rhine plain, extending from south of Worms all the way to the French border. Major town(s): Bad Dürkheim, Neustadt, Landau.
Exceptionally warm and sunny. Rain clouds are diverted through the Haardt and the Donnersberg in the West or they already lost the rain when they reach the Lower Palatinate . Due to the almost Mediterranean climate also almonds, chestnuts and figs develop in the Lower Palatinate . Very rarely damages through late or winter frosts.
Loam is prevalent, often in a mixture with other soil types, such as loess, chalk, clay, coloured sandstone or sand
Easy to warm up and dry soils of new red sandstone, loess in the northern area and around Landau. In direction Rhineland sandy soils and alluvial land. Around Bad Dürkheim and Deidesheim skeleton-rich alluvial gravel.
Vineyard area 23.357 ha · 2 districts · 25 collective vineyard sites · 300+ individual sites
Southern Weinstraße (wine road), between Neustadt and Schweigen. The stronghold of fresh and light wines. Consumed in 0.5 l glasses, they are in summer clearly preferred compared to beer.

Mittelhaardt/Deutsche Weinstraße ( German Wine Road ), on the light gravelly to loess soils between Neuenstadt and Bockenheim develop full-bodied Sylvaner and elegant Riesling wines that don't need to fear comparison with the Mosel Rieslings